ARCHITECTURE and decOR
LE PRÉ DE LA MER HÔTEL OWES ITS EXCEPTIONAL LOOK TO A DUO: ANNE AND MICHEL
Besotted with the Provence-Alpes-Côte d'Azur region, they truly fell in love with this place and decided to carry out its restoration works.
It's been a wonderful adventure for these two who often work together on projects.
Anne
Anne attended the Institut Supérieur de Peinture Décorative (
Van Der Kelen), the oldest and most renowned in the world, from which she received a gold medal.
She then created her own decorative painting business, offering a service which not only works with materials but also provides ready-made decor.
Passionate about interior architecture, Anne is a real virtuoso in art of the trompe l'oeil style: waxed cement, faux marble, faux wood, velvety pictorial prints.
Le Pré de la Mer owes its current interior design to her: a subtle and refreshing mélange of contemporary furniture transposed in a chic and classic ambiance.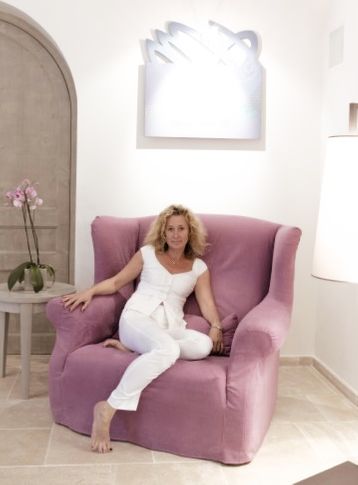 Michel
Michel is an architect (diplômé par le gouvernement) and... a Tropezian since the age of 6! He regularly works for a private, international clientele; the town of Saint-Tropez owes the restoration of its beautiful port to him with its sober, classic turn-of-the-century style.
Michel also reconstructed the Phare de Saint Tropez (known as the "red lighthouse" ) in its original location at the end of the pier.
When Michel discovered le Pré de la Mer, nestled away in nature, he decided to thoroughly review the state of the hôtel. He completely reconstructed and expanded it, giving it the superb magnitude it has today.
In the process, it perpetuates the Provençal character so prized by visitors to the Côte d'Azur.
Michel finally envisaged the pool which can be turned into a terrace.
All of this combined has made for a rare aesthetic which makes Pré de la Mer a charming and poetic hôtel par excellence.